What is a 319 Grant ?
Water sampling on the Spring River has indicated that there is contamination by E. coli bacterium in the stream. Due to this sampling, Spring River has been listed on the 303D list as impaired by bacteria. In order to improve water quality the Spring River Partnership applied for a 319 Grant that is being administered by the Jasper County Health Department. This is a Federal and State sponsored program that is designed to assist local homeowners and property owners with the cost and repair of problem areas located within the designated section.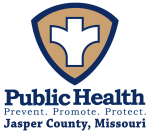 The 319 grant allows a cost match for several different projects. These projects may include septic maintenance and repair, bio-retention ponds, agricultural runoff and soil erosion prevention, rain barrels, rain gardens, grassed swales, and conservation buffers. Any participation in this program is strictly on a voluntary basis.
What areas qualify for assistance?
The highlighted area in the map below shows the encompassed area covered under the 319 grant. If your home or property is located in the area shown you may be eligible for assistance under the current provisions outlined in the 319 Grant.
The areas that are tan and outlined in black indicate the boundaries for eligibility for assistance with septic and rain barrel programs. The light blue areas are eligible for the programs listed above as well as agricultural best management practice implementation.
---