Rain Barrels - Harvesting Rain
---
WHY HARVEST RAINWATER WITH RAIN BARRELS?
Besides helping the environment, an obvious reason for harvesting rainwater is to save money. Depending on the size of your house and the amount of rainfall in your area, you can collect a substantial amount of rainwater with a simple system. This extra water can have a significant impact on your water bill. Even if you live in a rural area and have your own well. The fact that rainwater is a naturally soft water may be enough to justify harvesting rainwater.
Rainwater stored in rain barrels has many uses. Some people find it mostly useful for watering their landscapes and gardens. Others find uses within the house as well. You do not need a filtration system for landscape uses. You can use it directly from your rain barrel on your garden.
---
TYPES OF RAINWATER HARVESTING SYSTEMS
There are many possible configurations and degrees of complexity to a rainwater catchment system. Costs vary considerably as well. You can spend anywhere from a few dollars to thousands of dollars. Your best bet is to review the options available on the market to find out what's in your price range and what's a realistic set-up for your home.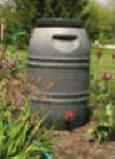 Perhaps the simplest use of rainwater if you are on a budget or have space restrictions is to put a rain barrel under one of the gutter downspouts and use the water on sensitive indoor Wants. The plants will appreciate the soft water. The barrel should always be covered between uses.

Bigger and more complex systems may use gravity to feed water from gutters to a larger cistern, which pumps water to the landscape. Some online gardening sites sell cisterns and other more complex rainwater harvesting equipment.
Whatever you decide, all systems should use covered barrels or cisterns that keep the water from accumulating leaves and other contaminants. They should also have some kind of filter to keep out silt and leaves. Filters can range from a funnel with mesh at the bottom that is covered by gravel, to a rainwater washing apparatus.
---
THE BENEFITS OF RAINWATER FROM RAIN BARRELS
Since the rain water is usually collected from the roofs of houses, it picks up very little contamination when it falls. You will want to keep your roof clean of debris and potential contaminants to maximize purity. The material your roof is made of is also important in how much contamination the water will carry. The chemicals and hard water from many of our municipal water systems can produce an imbalance in the soil of your garden. Chemical fertilizers, fungicides, pesticides, and drought can also disrupt the balance and harmony of the soil. This imbalance causes trees and plants to weaken and makes them more susceptible to disease.

Trees and plants have an efficient Immune system that allows them to fend off diseases and other invaders as long as they have a healthy soil environment and aren't stressed by other factors such as drought Trees and plants rely on fungus, bacteria, and nematodes to help them absorb the minerals and nutrients they need. Trees and plants depend on a fungal root system called mycorrhizae. Mycorrhizae attaches itself to tree and plant root hairs and extends the root hair system.
---
SAFE RAINWATER HARVESTING CATCHMENTS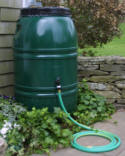 Any catchment area will pick up some contamination from leaves, bird droppings, dust, and other natural Causes. This water is fine for watering your garden. Some roofs, such as old tar and gravel or old asbestos shingle roofs create too much contamination for rainwater harvesting. Treated cedar shakes are not recommended for water harvesting.

The type of gutter system you have is also important, as many may have lead soldering or lead-based paints. Additionally, if you live in an area that produces heavy industrial pollution, your rainwater itself may contain some undesirable contaminants.

Talk to your local municipal government about the issue of environmental contaminants in your area that may affect rainwater quality.
---
HARVEST RAIN!
One of the best reasons to start harvesting rainwater with rain barrels is that if you teach and encourage others to do the same, you will help to spread the culture of rainwater collection and in turn help your larger community and the environment. It is always important to remember that every living thing on the planet needs water to survive so we as humans must expand our idea of community to the plants and animals that surround us.
If interested in exploring the option of building a rain barrel on your property contact the Jasper County Health Department.
---